You remember documenting a website by taking screenshots. But how do you search by text?
Keywords

Image processing
Command line interface
How do you find text in images?
https://github.com/madmaze/pytesseract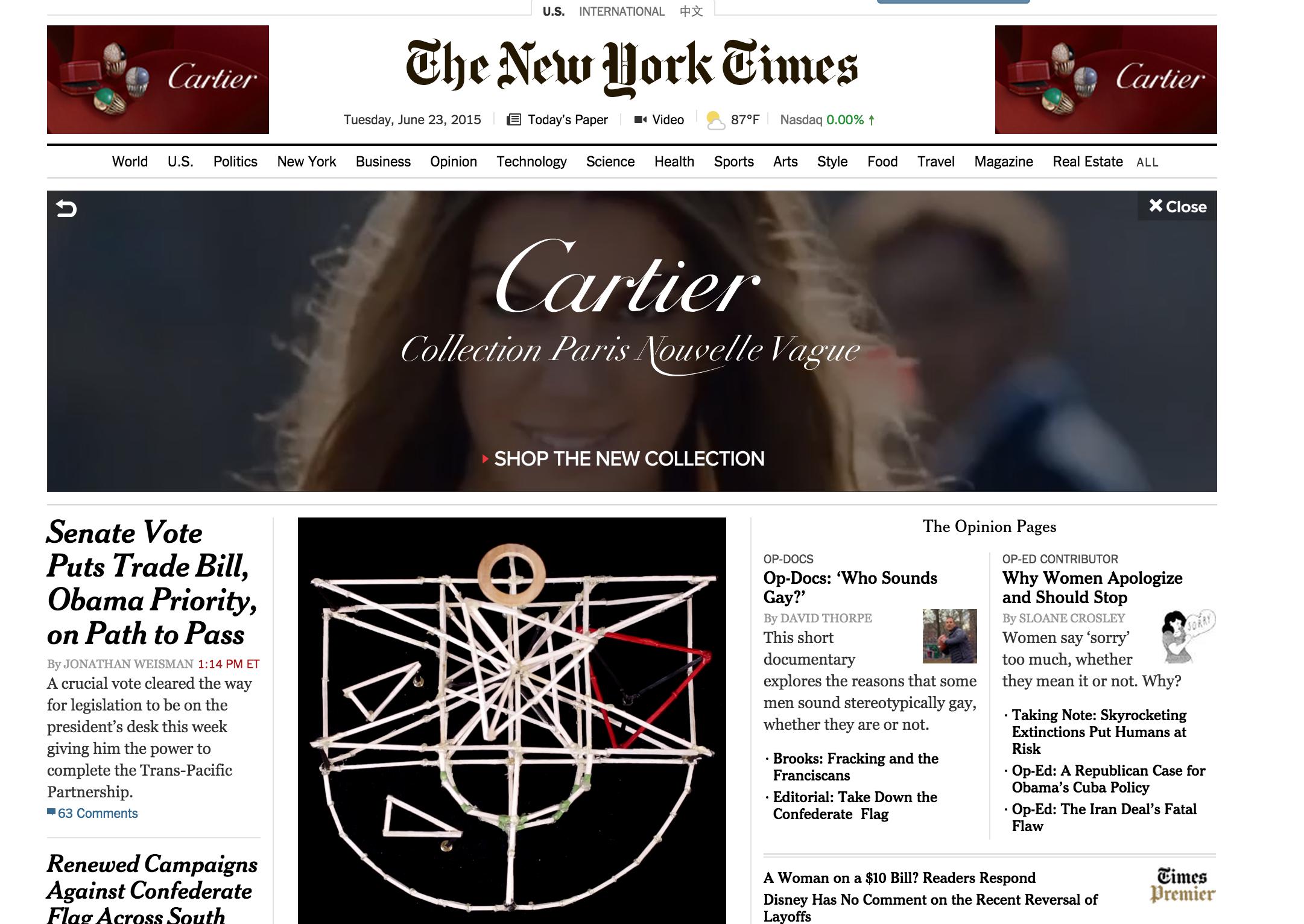 from PIL import Image
import pytesseract
fname = './files/images/tess/nytimes.com.201506231100.jpg'
img = Image.open(fname)
print(pytesseract.image_to_string(img)))

The header. The styled text was poorly translated, including the New York Times logo. But everything else is legible. There's a few spacing problems, US. and NewYork instead of U.S. and New York, respectively. It does capture the SHOP THE NEW COLLECTION in the Cartier ad.
U.S. INTERNATIONAL

(;,,.,,-H. (7.l1)eNv21n flork Eimes  (;,,.,,.(,,.

!.I.§.
  
Tuesday, June 23, 2015 El Today's Paper I4 Video 87°F Nasdaq 0.00% 1

World US. Politics NewYork Business Opinion Technology Science Health Sports Arts Style Food Travel Magazine Real Estate ALL

Q/we/«
L

(70//er/1'0/'1 P0/'/Lu bi/1-if'//' ll?/gz/6

> SHOP THE NEW COLLECTION

The full result:
U.S. INTERNATIONAL

(;,,.,,-H. (7.l1)eNv21n flork Eimes  (;,,.,,.(,,.

!.I.§.

   

Tuesday, June 23, 2015 El Today's Paper I4 Video 87°F Nasdaq 0.00% 1

World US. Politics NewYork Business Opinion Technology Science Health Sports Arts Style Food Travel Magazine Real Estate ALL

Q/we/«
L

(70//er/1'0/'1 P0/'/Lu bi/1-if'//' ll?/gz/6

> SHOP THE NEW COLLECTION

 

The Opinion Pages

Senate Vote

Puts Trade Bill,
Obama Priority,

on Path to Pass

A crucial vote cleared the way
for legislation to be on the
president's desk this week
giving him the power to
complete the Trans-Pacific

Partnership.
' 63 Comments

Renewed Campaigns

Against Confederate
Flag Across South

   

OP-DOCS

Op-Docs: 'Who Sounds
Gay?'

This short
documentary
explores the reasons that some

men sound stereotypically gay,
whether they are or not.

 

~ Brooks: Fracking and the
Franciscans

~ Editorial: Take Down the
Confederate Flag

OP-ED CONTRIBUTOR

Why Women Apologize
and Should Stop

Women say 'sorry? \, vi"!
too much, whether l,' A'
they mean it or not. Why?

~ Taking Note: Skyrocketing
Extinctions Put Humans at
Risk

~ Op-Ed: A Republican Case for
Obama's Cuba Policy

~ Op-Ed: The Iran Deal's Fatal
Flaw

A Woman on a $10 Bill? Readers Respond Eimcs

Disney Has No Comment on the Recent Reversal of

Layoffs

-;';'i'i'r.im'